Buddy Barrett is a BSC charge in third grade who is the older brother of Suzi Barrett and Marnie Barrett, the son of Natalie Barrett, and the stepson of Franklin DeWitt.
He is a good kid and is best friends with Nicky Pike. He is a divorced child. He is skinny with Knobby knees. Mr. Moser is his teacher, and hates him and his flash cards. He wasn't reading at a good level until Mallory helped him. He can now read a chapter on his own with little help. His reading group is the robins. He likes comics and Encyclopedia Brown. He watches a show called Dragon Warriors at 8:00. He was teased because he was taking a quilting class with Mary Anne. He is a picky eater, active and lively, but makes mischief. He once ordered moon dust through the mail but found out it was a scam. He plays on the Krushers. He sings in All the Children of the World. He shares his room with Taylor. He is coming to terms with his masculinity. He is in Save the Planet Class. His real name is Hamilton.
In the graphic novels
Edit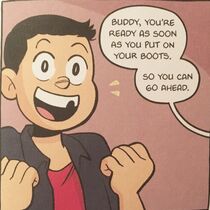 Buddy appears in the graphic novel version of Dawn and the Impossible Three.
Book Appearances
Edit
Community content is available under
CC-BY-SA
unless otherwise noted.