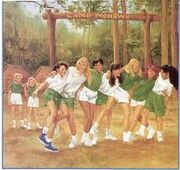 Camp Mohawk is a summer camp located three hours north of New York City, presumably in the Catskills or Adirondack Mountains of upstate New York. The camp is divided into two sides with the girls on the left side of Lake Dekanawida and the boys on the right. Camp Mohawk is run by Mr. and Mrs. Means.
Many of the campers call Mrs. Means "Old Meanie." All those attending the camp are required to wear attire in either green or white with the Camp Mohawk tee-pee symbol on them along with white or green shorts. The only personal clothing items allowed are sneakers and underwear.
Campers are broken up by both gender and age. There is a cabin for each age group with each cabin divided into two sides. Each side contains one counselor, two counselors-in-training and six campers. Campers can enjoy several activities and earn badges during their two week stay. Some of the activities include water-skiing, swimming, arts & crafts, and nature walks.
CITs enjoy extra activities such as movie night and a CIT dance with the male CITs. Unless given permission for a specific activity, boys and girls are not allowed on the opposite sides of the Lake Dekanawida.
Campers come from the New York, Connecticut, and New Jersey areas via school busses with the words "Camp Mohawk" on the side. The busses have luggage compartments underneath to stow suitcases. The meeting place for campers in Manhattan is on 34th Street, near Park Ave. The meeting place for campers going from Stoneybrook is the Stoneybrook High School parking lot.
Campers must be between the ages of 6 and 11 years old, CITs are around 12 or 13 years old and counselors are 15-20 years old. Campers who cannot swim are known as Iroquois. The 11-year-olds get to participate in an overnight hike. There is also a program known as Outward Bound, which is a survival skills unit.
| | | | |
| --- | --- | --- | --- |
| Cabin Number | Counselor | CITs | Campers |
| 6A | Unknown | Unknown | Unknown |
| 6B | Barbara | Stacey, Joanne | Valerie, Monique, Karen Brewer, Nonie |
| 7A | Connie | Mary Anne, Randi | Margo Pike, Tara, Nancy Dawes |
| 7B | Unknown | Faye, Julie | Unknown |
| 8A | Naomi | Unknown | Unknown |
| 8B | Unknown | Kristy, Lauren | Charlotte Johanssen, Becca Ramsey |
| 9A | Meghan | Claudia, Sally Troner | Vanessa Pike, Haley Braddock, Gail, Brandy, Leeann, Jayme |
| 9B | Unknown | Unknown | Unknown |
| 10A | Unknown | Unknown | Unknown |
| 10B | Unknown | Unknown | Unknown |
| 11A | Charlene (replaced by Debra after leaving due to her mother's illness) | Dawn, Amy | Heather, Rachel, Freddie, Shari, Caryn, Donna |
| 11B | Autumn | Mallory,Jessi | Maureen, Mary Travis, Mary Oppenheimer, Mandi |
Book Appearances
Edit
Community content is available under
CC-BY-SA
unless otherwise noted.