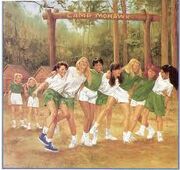 Camp Mohawk is a summer camp located three hours north of New York City, presumably in the Catskills or Adirondack Mountains of upstate New York. Members of the Baby-sitters Club are Counselors in Training (CITs) for a two week session. The camp appears primarily in Baby-sitters' Summer Vacation.
General
The camp is divided into two sides with the girls on the left side of Lake Dekanawida and the boys on the right. Camp Mohawk is run by Mr. and Mrs. Means. Many of the campers call Mrs. Means "Old Meanie." Campers are broken up by both gender and age.
Campers come from the New York, Connecticut, and New Jersey areas via school busses with the words "Camp Mohawk" on the side. The busses have luggage compartments underneath to stow suitcases. The meeting place for campers in Manhattan is on 34th Street, near Park Ave. The meeting place for campers going from Stoneybrook is the Stoneybrook High School parking lot.
Campers must be between the ages of 6 and 11 years old, CITs are around 12 or 13 years old and counselors are 15-20 years old. Campers who cannot swim are known as Iroquois.
Uniform
All those attending the camp are required to wear attire in either green or white with the Camp Mohawk teepee symbol on them along with white or green shorts. The only personal clothing items allowed are sneakers and underwear.
Cabins
Cabins are wood with bunk beds and one single for a counselor. The counselor bed has a curtain they can pull around it for privacy. There is a cabin for each age group with each cabin divided into two sides. Each side contains one counselor, two counselors-in-training and six campers.
Activities
Campers can enjoy several activities and earn badges during their two week stay. Some of the activities include:
water-skiing
swimming
arts & crafts
nature walks
The 11-year-olds get to participate in an overnight hike. There is also a program known as Outward Bound, which is a survival skills unit. The over night campsite is five miles from the center of Mohawk.
During each session of camp, one half of each age group surprises the other with a "Christmas in Summer". The recipients each receive stockings filled with carefully-selected gifts.
At the end of every session, the camp holds a Parents' Day where the families of the campers visit and enjoy a talent showcase put on by each cabin before heading home.
CIT activities
CITs enjoy extra activities such as movie night and a CIT dance with the male CITs. Unless given permission for a specific activity, boys and girls are not allowed on the opposite sides of the Lake Dekanawida. Any breaking of the rules can result in activities being taken away for a certain number of days.
Cabin Residents
| | | | |
| --- | --- | --- | --- |
| Cabin Number | Counselor | CITs | Campers |
| 6A | Unknown | Unknown | Unknown |
| 6B | Barbara | Stacey, Joanne | Valerie, Monique, Karen Brewer, Nonie |
| 7A | Connie | Mary Anne Spier, Randi | Margo Pike, Tara, Nancy Dawes |
| 7B | Unknown | Faye, Julie | Unknown |
| 8A | Naomi | Unknown | Unknown |
| 8B | Unknown | Kristy, Lauren | Charlotte Johanssen, Becca Ramsey |
| 9A | Meghan | Claudia, Sally Troner | Vanessa Pike, Haley Braddock, Gail, Brandy, Leeann, Jayme |
| 9B | Unknown | Unknown | Unknown |
| 10A | Unknown | Unknown | Unknown |
| 10B | Unknown | Unknown | Unknown |
| 11A | Charlene (replaced by Debra after leaving due to her mother's illness) | Dawn, Amy | Heather, Rachel, Freddie, Shari, Caryn, Donna |
| 11B | Autumn | unknown | Maureen, Mary Travis, Mary Oppenheimer, Mandi, Mallory Pike, Jessi Ramsey (Junior CITs) |
Cabin Details
Cabin 10A and 10B (10-year-old girl cabins) - they perform a piece from the musical "Annie" in the performance at the end of the two weeks. Jessi states that they do very well. The Campers, Counsellors and CITs are unknown.
Book Appearances
Trivia
The camp is called Camp Moosehead in The Baby-Sitters Club (web series).
Misinterpretation of the lake name is a running gag throughout the book. Some of the mistaken names include Lake Duckanawooda, Lake Dukakis, Lake Deka-Deka and Lake Whatever.
Gallery