Dawn Read Schafer is the former alternate officer in the Baby-sitters Club, She moves away in Farewell, Dawn. She is replaced by Abby Stevenson. Dawn makes a few cameo appearances in the Baby-sitters Club: Friends Forever series. Dawn starts out the series in seventh grade until Logan Likes Mary Anne! when she joins eighth grade at Stoneybrook Middle School. At her school in California, the eighth grade is part of the high school.
Personal Info
General
Current address is 22 Buena Vista, Palo City, CA and her current summer address is 177 Burnt Hill, Rd. Stoneybrook, CT.
Narrator of books: #5, #9, #15, #23, #31, #37, #44, #50, #57, #67, #72, #77, #84, #88, #98
Physical Description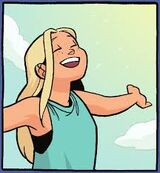 Dawn is described as tall at five feet five inches. She's mentioned to be taller than Mary Anne and Mallory in Mallory and the Trouble with Twins. Dawn has long, white-blonde hair the reaches past her waist and pale blue eyes. She gets freckles if she stays out in the sun for too long. She is a health food nut, which contributes to her slender build. Mary Anne didn't find her very pretty in Mary Anne Saves the Day.
Clothing/Style
She dresses in a very casual manner. She has her own unique style which the club nicknames "California Casual" because of the California style clothing she wears. Dawn looks best in summer colors like blue and yellow. She has two piercings in each ear.
She calls her look kind of sporty in Beware, Dawn!.
In Dawn and the School Spirit War she mentions that she doesn't own any yellow clothes. Dawn says that she doesn't think she looks good in it.
In Dawn and the Older Boy she mentions that she never cuts her hair, but will keep it trimmed. She likes wearing it long and straight. Dawn mentioned that she'd try new hair styles but always go back to wearing it long and straight.
Personality Traits
Dawn is sensitive, but says what she thinks. She is confident and an individual. She is very neat, and she has a clean room. Dawn is not afraid to take a stand. She rarely gets angry; sometimes she pouts or feels cross but doesn't often scold.
Dawn is extremely supportive of her friends and very caring. She was with Sunny almost all the time in the days before her mother's death and gave advice to Ducky about Alex and Ted, and reassures him that what happened wasn't his fault. Dawn also could tell early on about Maggie's eating disorder.
However, Dawn can become quite petty, as shown in the California Diaries. She is willing to call people out when they anger her and that trait destroyed her friendship with Jill and nearly with Sunny. She can also be quite sensitive and be easily annoyed, especially if it's her enemy.
She believes in psychic experiences and ESP. Dawn takes dreams seriously and can sometimes tell the future as seen in Dawn and Too Many Sitters. She's interested in the paranormal and tries to test the cat in Mallory and the Ghost Cat to see if it's a ghost cat.
Kristy says that she has incredible energy in Kristy and the Dirty Diapers and that she knew how to cheer up the Krushers.
Her dad calls her "a cockeyed optimist" in Dawn and Too Many Sitters.
Stacey mentions that she's not a good listener in Stacey and the Bad Girls.
Stacey mentions that she is practical in Welcome Back, Stacey!.
She admits that she would get stage fright in Dawn and the Older Boy. However, by Starring the Baby-sitters Club!, she was able to play Tiger Lily in the school's production of Peter Pan.
In both Stacey's Mistake and New York, New York!, Dawn is afraid of New York City.
Childhood Experiences
Dawn was born on February 5th at St. Mary's Hospital in Anaheim, California. She was originally due on January 28th. In her autobiography, she reveals that her mother finally took a long walk on the beach, thinking it would help her delivery along, and sure enough, it worked. She once won a baby contest in L.A. when she was two.
Her first four words when learning to speak were Wa-Wa (water), Ma-Ma, Da-Da, and Be-ee (beach). Dawn also took her first steps at the beach after she pulled herself upright using a cooler and then toddling towards the ocean waves. As a child, one of her favorite books was Madeline. She and her pre-school playmate Ruthie used to build the city of Paris out of blocks in honor of the book. Dawn also loved playing with Play-Doh as a child and sometimes would stick lumps of it in her mother's cooking or in her ears as earrings.
Dawn lived in the Anaheim area until she was six and then moved to Palo City. She attended Vista School in Palo City from first grade through eighth grade. Her best friend, Sunny Winslow, moved into the house two doors down from her when Dawn was seven. She has been friends with Sunny, Maggie Blume, and Jill Henderson since first grade.
She once called her third grade teacher mom in Beware, Dawn!, however none of her classmates heard her say it.
Biography
When she was thirteen-years-old, Dawn's parents, Jack and Sharon, divorced. Dawn moved with her mother and brother to Stoneybrook, Connecticut where her mother was born and raised. Dawn comes to Stoneybrook Middle School (SMS) in the middle of the seventh grade when the BSC members were having a fight in January. She met Mary Anne in the cafeteria on her second day of school, and they instantly bonded. Kristy, as Mary Anne's best friend, is initially jealous but gets over it and invites Dawn to become the fifth member of the club once the fight between the club members has ended.
When Mary Anne is babysitting for Jenny Prezzioso, in #4 Mary Anne Saves the Day, Jenny gets a fever of one hundred and four degrees. Mary Anne panicked because she could not reach the Pikes (Jenny's neighbors), Jenny's parents, or her own dad. The only thing she could think of was calling Dawn. When Dawn arrives, she tells Mary Anne to call 911. When the club meets in the end, Mary Anne points out that Dawn was great at the Prezziosos.
Dawn's mother, Sharon, was Mary Anne's father's girlfriend in high school, which they found out in #4 Mary Anne Saves The Day. They later married in #30 Mary Anne and the Great Romance and lived in a farmhouse on Burnt Hill Road. In the last book of the original series, #131 The Fire at Mary Anne's House, the old farmhouse burns down. Tension briefly develops between Dawn and Mary Anne, since they become stepsisters and live in the same house, and it's a big change for them, though it is soon resolved. Later into the series, Dawn decides to return to California for six months because she feels homesick for her dad and brother Jeff.
She enjoyed living in Stoneybrook but really missed California. She eventually moved back there for six months to spend time with her dad and Sunny. She came back to Stoneybrook again for a while but then moved back to California permanently in #88 Farewell, Dawn.
Jack gave Dawn the nickname "Sunshine" because of her personality and the fact that she loved the beach and California living. Prior to moving to Stoneybrook, Dawn attended Camp La Brea for three summers (BSC SS2, 17).
By The Secret Life of Mary Anne Spier, Dawn is already in high school with her California friends since the school switch. At first, she was a little awkward around everyone back in Stoneybrook but then eased up.
In Dawn Schafer, Undercover Baby-sitter Dawn got overbooked and held a friends and family day to spend time with everyone.
During the California Diaries series, Dawn grew up quite a bit and no longer babysat. She mostly hung out with Sunny, who was changing, as Maggie Blume was becoming a perfectionist and growing apart from her. Jill Henderson was becoming immature and babyish, embarrassing her. Dawn decided to go to a high school party with Sunny and Maggie and met Amalia Vargas and Ducky McCrae, and they became friends. Dawn didn't get in trouble for attending the party which angered Jill, causing her to yell at her. Dawn finally snapped at Jill and cut ties with her. The other reason for her doing this is because Jill told Carol Schafer that she knew that she was pregnant.
In Sunny, Diary Two, Dawn and Sunny get in a fight and stop being friends, because Dawn barely cared about Carol and spent time with Mrs. Winslow, while Dawn was being insensitive about Sunny's situation and accused her of not caring about her own mom. Dawn still missed Sunny but had conflicting feelings towards her, so she tried to become closer to Ducky and Maggie instead. Carol ends up having Dawn's baby sister, Elizabeth Grace Schafer-Olson, and Dawn leaves for Stoneybrook for the summer soon after.
When Dawn gets back, she helps Amalia hold an intervention for Maggie with her eating disorder. Dawn starts spending most of her time baby-sitting Grace and hanging out with Mrs. Winslow, who was progressively becoming worse. Dawn also tries to befriend Sunny again, but she is frustrated with her since she isn't making any effort. After Sunny and Ducky stop being friends, and Mrs. Winslow starts dying, Dawn and Sunny become friends again and spend all of their time together and become inseparable.
Dawn is in a great place at the end of the series, with her being close friends with Sunny, Maggie, Amalia, and Ducky. Amalia also planned a going away party for her when she went to Stoneybrook for the summer.
Room
In California Carol Schafer gave her a director's chair with her name on the back in the middle of a gold star.
In Connecticut, her room has a secret passage that leads to the barn. Her room has a small, round window near the ceiling and is very well lit. She has a CD player that she keeps there and lets Mary Anne use it.
When the barn is remodeled she has a diamond-shaped window in her room and a built-in bookcase.
Likes
Warm weather
Health food
baby-sitting
Sunshine
Ghost stories
Hayley Mills movies
The Parent Trap is her favorite movie
Getting phone calls
Green peppers
Brown rice and tofu
Cabbages and Kings is her favorite restaurant
Tofu and vegetable curry (M#7)
Seaweed salad (M#7)
Cooking
Honey granola snaps are one of her favorite cookies
Surfing and the beach (M#12)
Being outside
Sierra Club Magazine
Chinese food
Herbal tea in the winter (in #66)
Spirits, Spooks, and Ghostly Tales book (in #23)
Snow (#50)
Ghostly Tales comic book (M#3)
Drugstores (M#17)
Sailing (SS#4)
Punctual people (SS#6)
Exercising (#43)
Dislikes
Guns and violence
Cold weather (#50)
Red meat
Junk food
Sugar
Hates it when Richard flips the light on and off to wake her up
Waking up early
Hates good-byes
Wasting things
Doing laundry (M#5)
Pancakes (#44)
Snakes (M#7)
Jobs
In Mary Anne and the Playground Fight, Dawn interviews for the Stoneybrook Elementary School Playground Camp. She gets the job and meets Susan Felder in Baby-sitters' European Vacation.
Baby-Sitting and Club Experiences
General
Dawn has to be home by nine on weeknights and ten on weekends unless she's baby-sitting late. She doesn't allow kids to play guns. Must leave her house by 5:24 to be at Claudia's on time.
Clients
In Stoneybrook, she sits for the Barrett Family often. Her favorite client at the Baker Institute is Kendra, who has cerebral palsy in Jessi's Wish. She is the first person to sit for the Hill Family.
In California, her favorite sitting charge is Stephie Robertson, who she is almost sisters with. She is friends with Whitney Cater.
History
She used to sit all the time in California and started sitting when she was 9. Mary Anne introduced Dawn to the rest of the girls four months after the BSC was formed. She temporarily replaces Stacey McGill when she moves back to New York City in Good-bye Stacey, Good-bye. She also acts as the secretary when Mary Anne is in Iowa.
Dawn helped Margo and Claire Pike in the Little Miss Stoneybrook beauty pageant in Book #15 Little Miss Stoneybrook... and Dawn.
In Jessi's Wish, she volunteers for a month at the Baker Institute in Stamford for physically disabled kids. Dawn teaches an after school ecology class for her sitting charges in Dawn Saves the Planet.
School-Related Experiences
General
Dawn is in eighth grade at Stoneybrook Middle School. Mr. Blake is her and Mary Anne and Shawna Riverson's homeroom teacher. Shawna has a locker next to hers. Math is not one of her strengths. Mrs. Gonzalez is her science teacher.
In modern living class, she pretend-marries Aaron Albright, whom she doesn't like. They have an egg child named Skip in Mary Anne + 2 Many Babies.
It's mentioned in Dawn's Wicked Stepsister, that sometimes she needs music to concentrate on homework.
In California, Mr. Swanson is her English teacher.
Extracurricular Activities
Mrs. Gonzalez asks Dawn to co-chair the recycling center, which they've organized at SMS in Dawn Saves the Planet. She plays Wendy in a production of Peter Pan in Starring the Baby-sitters Club!.
She did the javelin throw for the sports festival in Jessi's Gold Medal.
In Baby-sitters' Island Adventure, it's mentions that she is a passed a life saving class. She and Claudia Kishi attend classes at the Stoneybrook Community Center and are certified sailors.
Getting to School
In California she and Sunny walk to school.
Lunch
She always brings her own lunch to school. Her natural peanut butter with honey and banana sandwiches are wrapped in wax paper, which is more environmentally safe.
Social Activities
She goes by herself to the Remember September, Halloween Hop, and school spring dance. Dawn goes to the Winter Wonderland dance with Price Irving, although they have nothing in common. She goes to the Valentines Dance with a friend.
Dawn goes with Pete Black to the January Jamboree and the community center spring dance.
Friends
She meets Mary Anne Spier on her second day of school and fourth day in Connecticut. Mary Anne is now her step-sister as well as her best friend. They talk on the phone a lot when she's in California.
Her California friend and first friend is Sunny Winslow.
Kristy and Dawn didn't get along at first but now they call each other friends.
In Dawn Schafer, Undercover Baby-sitter, Dawn makes plans with both Emily Bernstein and Erica Blumberg. She also invites Mari Drabek to her party at the end of the book.
In Farewell, Dawn, she invited Emily Bernstein to her farewell party saying that she likes her.
She formally meets Abby Stevenson at Thanksgiving in Claudia and the First Thanksgiving. They become friendly with each other.
Boys/Boyfriends
She has a crush on Travis; he tried to change her too much however, Dawn thinks Dave Griffin is cute. Parker Harris is her first boyfriend whom she meets on a cruise. He kisses her on the cheek.
Dawn writes to Lewis Bruno at Mary Anne's suggestion and plans to see him when he visits Stoneybrook. She wears a lot of makeup and dresses more trendily to impress him when he visits in January. The tones it down though and double dates with Mary Anne and Logan Bruno. They kiss in front of an antique shop and she can't imagine ever wanting to kiss someone else.
Dawn's Theory of Shopping
Rule number one: Never shop with best friends if you have something truly important to buy. Rule number two: If you have to buy it during the holiday season multiply rule number one by ten.
Trivia
Dawn is an environmentalist, which causes problems in the club in Book #57 Dawn Saves the Planet. She is mostly a pescatarian, although she, on rare occasions, eats non-red meat. At Camp Mohawk, she ate a hot dog because it was the only food available when she was on an overnight trip with her cabin in Baby-sitters' Summer Vacation. She chose the chicken as her meal on the flight to California in California Girls!. She mainly eats healthy food and rarely takes the candy Claudia offers, because she doesn't like the taste of sugar.
She gets nervous on her first trip to NYC.
If she could be any animal she would be a dolphin.
Dawn has never seen an R-rated movie.
She has been to Vail, Colorado and a good skier.
Always uses chopsticks with Thai food.
Always tells fast food places not to pack food in styrofoam and not to send plastic forks.
In Stacey McGill... Matchmaker? she and her friends start a movie club.
Mary Anne calls her an impulsive shopper in The Secret Life of Mary Anne Spier.
Dawn used to have a parakeet named Buzz who once flew into some mashed potatoes mentioned in Jessi Ramsey, Pet-sitter.
In Graduation Day she mentions that she wants to go to college on the east coast. She mentions that she wants to get married but doesn't want kids.
She has a walkman mentioned in Dawn on the Coast.
According to Claudia in Dawn and the Older Boy, orange is not her color.
In Dawn and the Disappearing Dogs, she mentions that she doesn't eat meat because she doesn't like the taste of red meat.
She can't read maps too well and can barely tell left from right.
She mentions wanting to be a reporter when she grows up in Baby-sitters' Island Adventure.
In the Graphic Novels
Media Portrayals
In this series she is portrayed by actress Melissa Chasse. In the episode Dawn Saves the Trees, she and her friends form a protest when they realize that the park was going to be updated with a paved road. When she finally faces the local jury about what to do instead, she's stumped. It isn't until later after research that she's able to propose an all natural trail rather then bulldozing the path.
She is portrayed by actress Larisa Oleynik. This Dawn has Alan Gray attracted to her.
Dawn is portrayed by actress Xochitl Gomez in Season 1, and is portrayed by actress Kyndra Sanchez in Season 2. This is the first adaption that has Dawn played by a Latina actress. This Dawn is not just an environmentalist but she also helps form a labor union at Camp Moosehead with a lie in. She is also from Los Angeles rather then Palo City. Dawn tries to call Richard Spier pretending to be her mom so they could date, which never happened in the books. Richard, of course, knew that it was Dawn. She also attends a Wicca like group with her mom, Mary Anne, and Mrs. Porter. She and Mary Anne also make up their own handshake.
Biography
Dawn Schafer moved to Stoneybrook from Los Angeles, California. Her parents are Sharon Porter and an unnamed father. She moved because her parents finalized their divorce after her father came out gay and her mother accepted him. As her Dad stayed in California, her mom decided to go back to her roots in Stoneybrook, Connecticut mainly because her mom is good with the laundry. She met Mary Anne when the club was having a fight and was invited to her house where they talked about Mary Anne's transgender charge, Bailey Delvecchio. Since Dawn is from California, she understands a lot about what Bailey is going through because of the diversity of California and having friends and family and even strangers who were considered queer. She joins the club in Dawn and the Impossible Three (Web Series Episode) as the alternative officer named by Kristy because the alternative officer could do everything and she thought Dawn could do everything because of her work with the Barrett family.
Physical Appearance
Unlike her other counterparts, Dawn has long black/brown-black hair with a little bit of her front hair being slightly shorter thank the hair in the back (mostly when styled) and tan skin. She has a Californian casual look to her and her hair is mostly always styled. She is Latina.
Gallery
Book Covers
Interior Illustrations
Other Images
Netflix TV Show