Jurassic World: Dominion Dominates Fandom Wikis - The Loop
Play Sound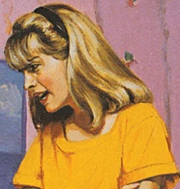 Elizabeth Thomas-Brewer (née Taylor) is the wife of Watson Brewer, the mother of Charlie, Sam, Kristy, David Michael Thomas, and the adoptive mother of Emily Michelle Brewer and the step-mother to Karen Brewer and Andrew Brewer. Elizabeth is a member of the Brewer/Thomas Family.
Physical Description
[
]
Her age is estimated at about 37 according to Kristy. Watson is slightly older than her.
Biography
[
]
Elizabeth's mother is Nannie. She has two sisters named Colleen and Theo. In Karen's Big Job, her birthday is in April.
Her worst day happened when she was sixteen. She flunked a test, her gym teacher yelled at her, burned the chicken meant for dinner, cut her hand, had a fight with her sisters, and lost her favorite earrings all on the same day. This story was mentioned in Karen's Worst Day.
She is divorced from Patrick Thomas. She has never forgiven Patrick for leaving the family but doesn't sit around whining about how badly he treated them. After Patrick walked out on the family, Elizabeth hired a housekeeper named Mrs. Culp to look after the house and David Michael.
Elizabeth gave birth to Charlie shortly after graduating from college, which was mentioned in Kristy and the Mother's Day Surprise. When she had Kristy, she had labor pains during a Yankees game.
Elizabeth and Watson started dating four months before Kristy began seventh grade and got engaged in October. They married at the end of June.
Job
[
]
Elizabeth works full-time for a big company in Stamford that has a sun as the logo. In Karen's Big Job, the agency's name is Mahler and Greye Advertising. She works on the twelfth floor with her own office. Some of her co-workers include Priscilla, Gary, and Ruth.
In Karen's Cooking Contest, she works with a woman named Beth Cooper.
Friends
[
]
Hobbies & Interests
[
]
Trivia
[
]
Media Portrayals
[
]
She is played by actress Ann Dowd. Elizabeth is only in two episodes "The Baby-sitters Remember" and "The Baby-sitters' Special Christmas".
Elizabeth is played by actress Brooke Adams.
Actress Alicia Silverstone plays as her in the series. She is in eight of the ten episodes in the first season. In an interview with Alicia it's mentioned she is a feminist.
Gallery
[
]
Books
[
]
Netflix TV Show
[
]