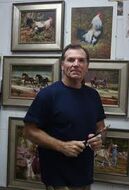 Hodges Soileau was the illustrator for the American cover art in The Baby-Sitter's Club series.
Hodges studied art at the University of Southwestern Louisiana, graduating in 1969 with a major in advertising design. He worked for Tracey Locke Advertising Agency in Dallas, Texas, and later with Middaugh Associates Design Studio in Houston. In 1971, Soileau began a freelance career in illustration. His work has been commissioned by most of the major publishing houses in New York. He has also worked for many of the largest corporations in the United States, such as Exxon, AT&T, Meridith Corp., Riechold Corp., U.S. Industries and General Electric. He was a member of the American Portrait Society and a previous 23-year member of The Society of Illustrators in New York. Soileau's paintings are displayed in many private and public collections, including the U.S. Air Force and U.S. Coast Guard.
Original Paintings Gallery
[
edit
|
edit source
]



Community content is available under
CC-BY-SA
unless otherwise noted.