Mallory "Mal" Pike
is a Junior Officer in The
Baby-Sitters Club
along with
Jessi Ramsey
. She makes her first appearance in
Mary Anne Saves the Day
and first appearance as a sitter in
Hello, Mallory
. She makes her last appearance in the main series in
The All-New Mallory Pike
. She appears briefly in the
Baby-sitters Club: Friends Forever
series and cameos in
Graduation Day
.
Personal Info
General
Her birthday is May 2
She lives at 134 Slate Street
Mallory narrates books: #14, #21, #39, #47, #54, #59, #69, #80, #92, M#3
Physical Description
She is five feet, one inch tall. Like Nicky and Vanessa she wears glasses all the time. Like all the other Pikes she has reddish-brown hair and blue eyes. Mallory is the only one in her family with curly hair. She has freckles across her nose which she hates and gets from her grandfather. She wants contacts but not allowed to get contacts until she is fifteen. She has to wear braces for two years. Both of her ears are pierced
Clothing style: Her parents say she's not old enough for miniskirts and glittery sweatshirts. Mallory looks good in autumn colors such as orange-red and gold. She has a girl that says I'd rather be writing my novel.
Personality Traits
Mallory is described as level-headed and practical. She can be klutzy and uncoordinated. She keeps a journal. She mopes well, she'll go to a fat sycamore tree on the playground to do so. She wants to be an authors and illustrator of children's books. Mallory thinks she is older than she is. They annoy her, and she gets mad. She once gave Byron the bizzer sign in Dawn and the Impossible Three.
Journal
Her journal is a plain old composition books with a mottled black and white cover. She doesn't write e very day, just whenever she feels like it. Only writes when she feels an urgency which is often. She likes to write when good things happen. She hides it underneath her mattress.
Childhood Experiences
Mallory gets straight A's for the first time in fourth grade. She had a crush on her fourth grade teacher, Mr. Barnes.
Biography
Mallory took horseback riding lessons in Book #54 Mallory and the Dream Horse, and while she was excited at first, they didn't exactly turn out the way she thought they would.
She starts the Pike Club meetings with siblings to talk about ways to save money while their dad was not working in Poor Mallory!. She sometimes walks her siblings to school. She's the last one home from school. She's always being asked to babysit siblings and has little privacy.
Likes
Read
Write
Draw
Kids
Writing in the club notebook
Horses
Ear piercing botique is her favorite shop in Washington Mall
Attics
Archery
Finding new words to use
Poems

Wynken, Blyken, and Nod
The Owl and the Pussycat
Jabberwocky

Writers

Barbara Morgenroth
Marguerite Henry
Lynn Hall

Books

A Morgan for Melinda
Green Knowe
Tom's Midnight Garden
Dislikes
Wearing glasses
Gym class
Nose
Nan White
Janet O'Neal
Rachel
When a good book ends
Jobs
She is hired as Henrietta Hayes's assistant for three weeks in Mallory Pike, No. 1 Fan.
Medical
She gets chicken pox for the second time in Dawn's Wicked Stepsister. She sprains her ankle in Jessi's Gold Medal. She's prone to mosquito bites. In Get Well Soon, Mallory she comes down with mono.
Baby-sitting and Club Experiences
Mallory has lots of baby-sitting experience, since she comes from a big family and has to help out. Things are wild and crazy in the Pike household. Naturally, she is used to lots of noise and isn't surprised at some of the craziest kid behavior as she has experienced it all herself, right in her own house. She knows a lot of silly songs that she heard from her brothers and sisters.
School-Related Experiences
Classes/Attendance
Her homeroom desk has a big EL carved in upper comer and heart carved in lower corner. Jessi was a new student in Mal's sixth grade homeroom. Her teacher is Mrs. Frederickson. Mal has gym third period on Mondays and Wednesday. She has math fourth period and lunch fifth period. French sixth period and study hall seventh period.
Science and math are are two hardest subjects. Her math teacher is Mr. Zizmore. She is asked to join a creative writing class that meets Tuesdays and Fridays. She loves English class; Mr. Williams is her English teacher.
Extracurricular Activities
She wins the race for secretary of the sixth grade. She makes the archery team, most members of which are from seventh and eighth grade. She is an apprentice costume designer for Peter Pan in Starring the Baby-sitters Club!
Awards/Demerits
She wins Young Author's Day contest for best overall fiction in the sixth grade. Her first detention happened when she refuses to play volleyball in gym class.
Getting to School
She and Stacey McGill use a code on school mornings to decide if they'll walk together. A white towel on the patio means she can walk with Stacey, Dawn, and Mary Anne to school. A red towel means she has to walk her siblings to school.
Grades
Mallory has never failed a subject in school. Gym has never been her strong point. She once copied off Jessi's paper during a test in The Baby-Sitters Club Chain Letter.
Lunch
Mal and Jessi eat a different lunch then the BSC. Mal and her siblings buy lunch every day or make their own.
Social Activities
Dances
She dances at the Leicester Lodge Dance with Justin Price in Baby-sitters' Winter Vacation. It was her first dance with a boy. She went to the Mischief Night Masquerade by herself.
Mallory and Ben Hobart go to several dances including: Halloween Hop, Winter Wonderland Dance, Valentine Dance and the Spring Dance.
Friends
Mallory's best friend is Jessi Ramsey, whom she first met in Book #14 Hello, Mallory, which was, in fact, Mallory's first book narration. Mallory and Jessi have many common interests: they both love reading, horses, horse books, and writing. Plus, they both have siblings and are the oldest in their families. They both want more freedom and feel their parents treat them like babies. They have homeroom, English, science, and lunch together. They always recommend books to each other.
She is also friends with the members of the Baby-Sitter's Club:
Boys/Boyfriends
She had a crush on Ben Hobart, who moved to Stoneybrook from Australia. She studies with him and Ben asked her to a movie in Kristy and the Secret of Susan. He things she's a terrific girl. Mallory and Ben never kissed.
Mallory briefly had a crush on Toby in Sea City, Here We Come!.
In the Baby-sitters Club: Friends Forever series she develops a crush on a boy at the nearby boys school to Riverbend Hall Boarding School.
Trivia
She talks in her sleep.
If she could be an animal she would be a horse.
She once joined a six week writing program at the Stoneybrook Public Library
Mallory shares a room with Vanessa.
In the graphic novels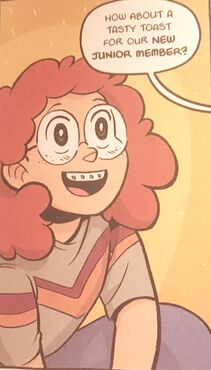 Mallory appears in Mary Anne Saves The Day, Claudia And Mean Janine, Dawn and the Impossible Three, and Kristy's Big Day. In the graphic novels, her glasses are bigger and her hair is brighter than in the original series. Also, she joins in the graphic novel Dawn and the Impossible Three, although in the original series, she joins The Baby-Sitters Club in Book #14 Hello, Mallory.
Gallery
Interior Illustrations
Book Covers
Other Images
Community content is available under
CC-BY-SA
unless otherwise noted.