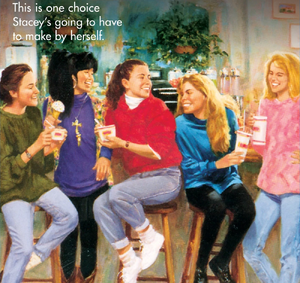 "We could go to that new place," added Mary Anne.

"Ye Olde Ice-Cream Parlour?" said Kristy. (She pronounced "olde" like this: oldie.)

Mary Anne giggled. "Well, it looks like ye 'oldie' ice-cream parlour, but I think it's called the Rosebud Café. And it serves more than just ice cream."

―#58 Stacey's Choice
The Rosebud Café, often simply called Rosebud, is a restaurant in downtown Stoneybrook. It is first introduced in Stacey's Choice.
General
[
]
This is where the Arnold twins, Rodowsky boys, and the Braddock kids treat the BSC members for being great baby-sitters in Claudia's Freind Friend. The bus boys call Rosebud "Road Spud" in Sea City, Here We Come!.
It has a real soda fountain, tall stools at the counter, and old fashioned decor. There is a neon sign outside. The hostess seats customers.
Menu
[
]
Ice cream
Salads
Burgers
Carrot juice
The Rosebud Special is a turkey sandwich with secret dressing.
Sundaes (LS#65)
Employees
[
]
Logan (busboy)
Terry Dutton (busboy)
Geraldine Breslin (busgirl)
Carlos (busboy)
Carlos Nunez (waiter)
Mr. Fee (Logan's boss)
Trivia
[
]
Gallery
[
]