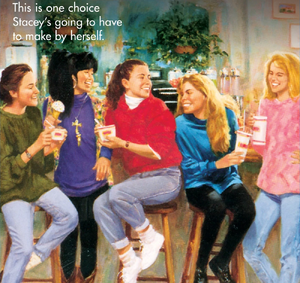 "We could go to that new place," added Mary Anne.

"Ye Olde Ice-Cream Parlour?" said Kristy. (She pronounced "olde" like this: oldie.)

Mary Anne giggled. "Well, it looks like ye 'oldie' ice-cream parlour, but I think it's called the Rosebud Café. And it serves more than just ice cream."

―#58 Stacey's Choice
The Rosebud Café, often called Rosebud, is a restaurant in downtown Stoneybrook. It is first introduced in Stacey's Choice.
This is where the Arnold twins, Rodowsky boys, and the Braddock kids treat the BSC members for being great baby-sitters in Claudia's Freind Friend. Logan calls Rosebud "Rose Spud" in Sea City, Here We Come!.
It has a real soda fountain, tall stools at the counter, and old fashioned decor. There is a neon sign outside. The hostess seats customers.
Ice cream
Salads
Burgers
Carrot juice
The Rosebud Special is a turkey sandwich with secret dressing.
Sundaes (LS#65)
Logan (busboy)
Terry Dutton (busboy)
Geraldine Breslin (busgirl)
Carlos (busboy)
Carlos Nunez (waiter)
Mr. Fee (Logan's boss)
Community content is available under
CC-BY-SA
unless otherwise noted.